MARCH 10, 2022—THURSDAY, 6:30–8 P.M. PST
VIRTUAL VIA CROWDCAST
Join SoCalMWA to hear Mike Spencer, a licensed private investigator, tell the true stories of a working P.I.
CLICK HERE TO REGISTER FOR THIS FREE EVENT VIA CROWDCAST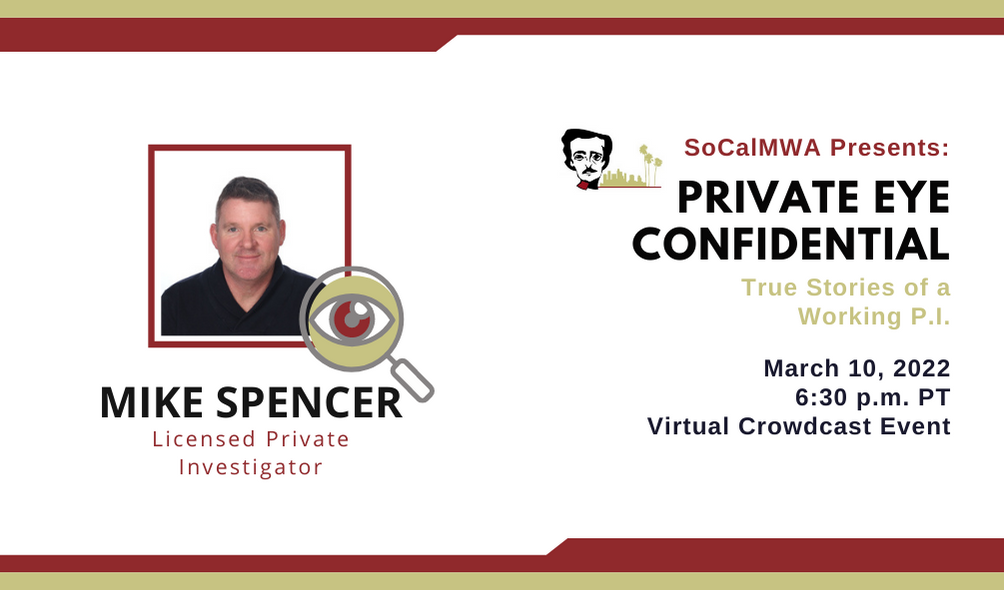 PRIVATE EYE CONFIDENTIAL: TRUE STORIES OF A WORKING P.I.
Join us on March 10 for a virtual event presented by private investigator Mike Spencer. Spencer has worked as a licensed private eye since 1995, cycling through criminal defense work, insurance cases, workers' compensation, domestic surveillance, and big cases for plaintiff's attorneys. For 25 years he's run Spencer Legal Investigations, serving trial lawyers throughout the Bay Area and California.
Mike is the author of PRIVATE EYE CONFIDENTIAL, STORIES FROM A REAL P.I, a short literary fiction/memoir about how he got into the profession and some of the more bizarre cases he's worked on. His latest project is a podcast, The Gary Murphy Assassination, about a 1998 case: Gary Murphy was gunned down three months after Spencer had him under surveillance; is the grandmother who battled Murphy in an ugly child custody case responsible? No one has ever been charged in the case.