---
MWA SoCal Luncheon
Tam O'Shanter
Sunday, January 29th at Noon
(doors open at 11:30)
Join us for an inside and in-depth look at the realities of modern arson and explosives investigations.
---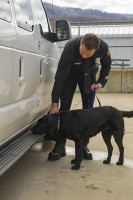 For our first luncheon of the new year, we are thrilled to be able to offer both members and non-members the opportunity to meet with and learn from some of the finest investigators working in the field of arson and explosives. We will be joined by ATF Special Agents Michael Hidalgo and Sam Chung as well as LAFD Investigator/K9 Handler Gus Gaeta and his partner ATF Accelerant Detection Canine Blue. Together, they have more than 50 years combined experience and have participated in cases including the Ramona Gardens firebombing, the Da Vinci apartment complex fire, and, most recently, the residential fire in Westminster that led to the discovery of a double homicide.
The multimedia presentation will be followed by a Q&A.
---
TAM O'SHANTER RESTAURANT
2980 Los Feliz Blvd, Los Angeles
Noon-2:30p
Valet and street parking available.
You will place your food order at the Tam. No need to preorder.
The menu choices will include their famous prime rib, plus vegetarian and gluten-free options.