Award-winning audio book narrators and producers tell behind-the-scenes tales about the making of best-sellers, the surprising differences between acting and narrating, and how best to tailor your writing for the spoken word. These guys are the best in the business.
Kirby Heyborne:
Kirby Heyborne is an accomplished actor, narrator, musician and comedian. He has received numerous awards and accolades for his narration including the American Library Association's Odyssey Award for the books Rotters and Scowler. He has narrated over 300 titles including the mystery/thrillers Gone Girl by Gillian Flynn, The Genius by Jesse Kellerman, and The Interpretation of Murder by Jed Rubenfeld. Kirby is known for his ability to voice multiple characters and dialects and to deliver raw emotion without drawing attention to the performance itself.

Cassandra Campbell:   Cassandra Campbell has recorded over 400 audiobooks.  She's been nominated for nearly a dozen Audie Awards and is a two time Audie winner.  She adores reading mysteries and has narrated some wonderful ones, including Greg Hurwitz's Don't Look Back and Celeste Ng's Everything I Never Told You as well as Sofie Kelly's Magical Cat series!  
Richard Brewer:   Richard J. Brewer a native Californian has always been a lover of stories and storytelling, leading him to work as a writer, actor, bookseller, story editor, book reviewer, and audiobook narrator. His credits range from Mystery (Meeting across the River anthology, Shame the Devil by George Pelecanos) to Sci-fi (Beastmaster series by Andre Norton, West and Sam Gunn, Omnibus by Orson Scott Card) his latest reading is of the classic 70s noir thriller Backfire by Dan J. Marlowe. He is the co-creator, with Gary Phillips, of the upcoming anthology Occupied Earth (Polis Books, Fall 2015.)
Jessica Kaye, moderator:
Jessica Kaye has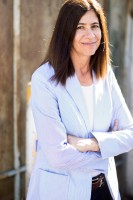 produced hundreds of audiobooks and her work has been nominated for multiple Grammy Awards. She is a partner in Kaye & Mills, a law firm specializing in entertainment and publishing. Jessica is a past President of the 
Audio Publishers Association.
She serves on the board of SoCal MWA and the board of Victory Theatre Center in Burbank. Her company, Big Happy Family, LLC (www.bighappyfamilyaudio.com) is a digital distributor of audiobooks and ebooks. She created and co-edited the anthology Meeting Across the River (Bloomsbury, 2005).
Jessica convened a similar panel for librarians at Bouchercon, and it was such a huge success that we asked her to do another for our members.
And, of course, it's at our new favorite hot spot, the Tam O'Shanter, and your fee includes a three-course lunch, including their famous prime rib for those who indulge.
Pay in advance to avoid waiting in line at the door.
Tam O'Shanter
2980 Los Feliz Blvd
Los Angeles, CA 90039
323-664-0228